Plastic Pants Make Me Horny!
April 25, 2020

Dirty Diaper Boy Gets Teased
May 27, 2020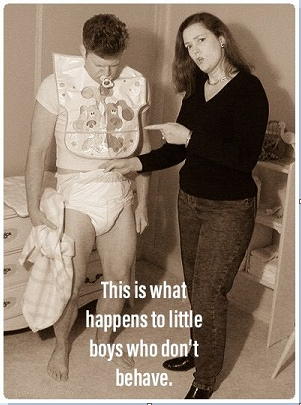 Charles knew that he should say something, do something to make his babysitter stop what she was doing to him…. But it felt so good. He had been so mad at her when she made him go to bed early, he hadn't done anything wrong, his abdl Step mommy Tawny was going to be back home before it was even his bedtime, so he knew she was putting him in his crib just to be a meanie. She had been picking on him all afternoon, nearly making him cry! She called him a silly baby and mocked him for getting put back in diapers. If it wasn't so unfair to be put in bed so soon, he would have been happy to get away from her! Right when he was about to go sleep though, the door to his nursery crept open and Jenna walked in quietly, coming over to lean over the crib railing to press one of her pretty hands against the front of his abdl diaper. He jerked, surprised. What was she doing?! Would you like to find out? Click here for the next part and call me for some naughty babysitter phone sex.
Jenna
1-888-430-2010
Click Here to chat with a phone sex mommy!
#naughtybabysitter #abdlsitter #abdl #adultbaby #humiliation